Floating U Shelf (Free Shipping in Continental US)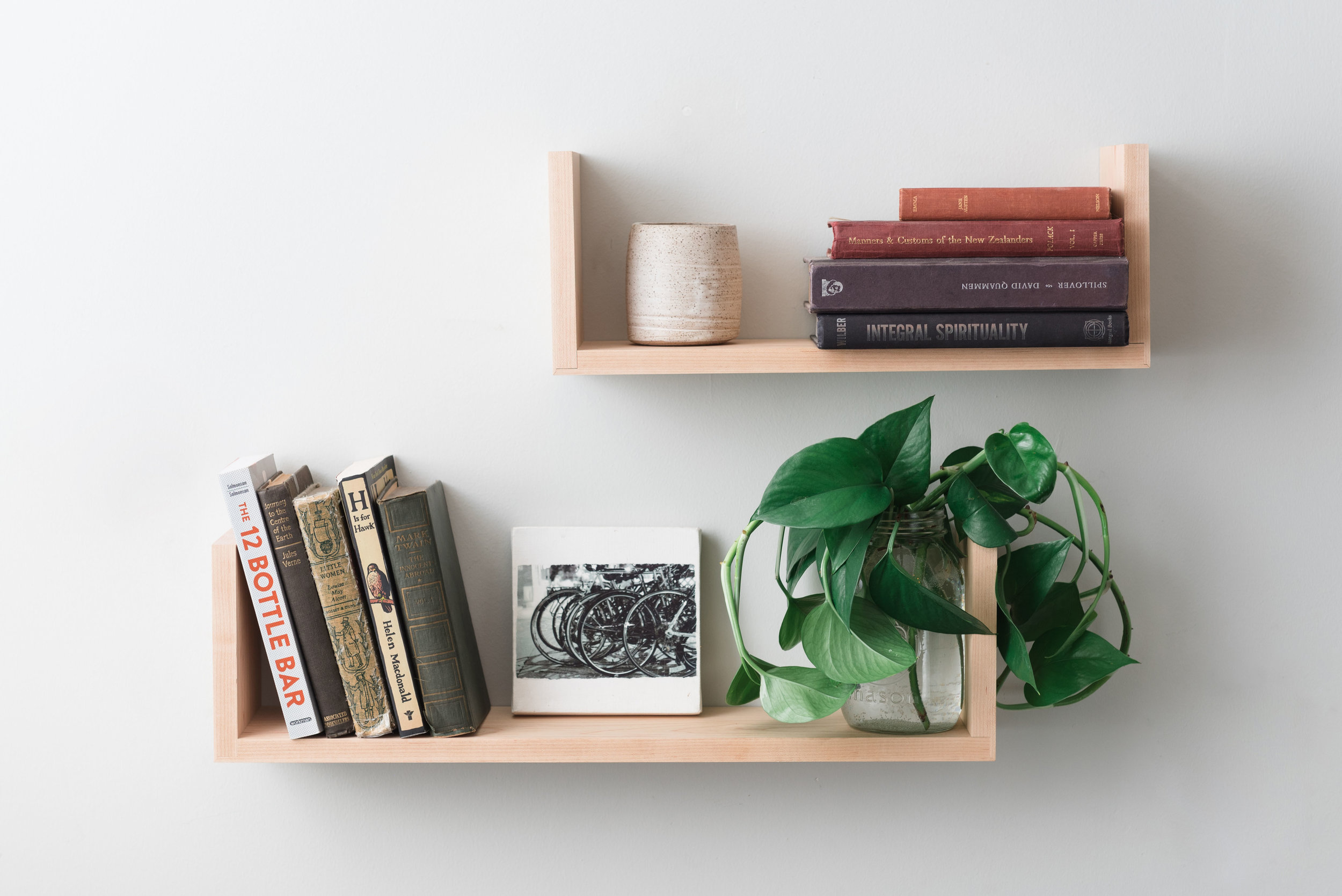 Floating U Shelf (Free Shipping in Continental US)
NOW AVAILABLE!
Handcrafted floating wall-mounted shelves with sidewalls perfect for books, candles, your favorite sipping whisky, indoor plants, and other home decor. The clean minimalist design is handcrafted from 100% hardwood in either rich, dark walnut or light hard maple.
Features:
Subtle attractive hardware free yet sturdy miterfold joints that allow for uninterrupted wood grain flow

Clean, modern floating look with easy keyhole mounting that works on a wide range of wall surfaces

Natural, unstained (but protected) 100% hardwood crafted by skilled hands
Size / Dimensions:
Tall / Wide (taller sidewalls): 6" tall x 24" wide x 5-1/2" deep

Tall / Regular (taller sidewalls): 6" tall x 18" wide x 5-1/2" deep

Short / Wide (shorter sidewalls): 3" tall x 24" wide x 5-1/2" deep

Short / Regular (shorter sidewalls): 3" tall x 18" wide x 5-1/2" deep
Shelves use keyhole mounting onto drywall anchors and / or woodscrews (depending on placement and surface). Alternative mounting hardware available by request for other surfaces like plaster, brick, stone, etc. - please contact Deep Cut for details.
Units are designed to hold approximately 10 pounds of static weight when installed correctly onto a wall in reasonable condition. Please read instructions and terms of use.
Deep Cut products are handcrafted in small batches in our Minnesota woodshop. We make attractive useful pieces that help you get more joy out of your home. Records, books, plants, cocktail culture, the kitchen, games - if it helps you enjoy your space, we want in. We source our premium hardwood materials from local suppliers and do everything we can to preserve the natural beauty of those materials while making things that will last. Each piece is designed for easy hassle-free install with no assembly required.
These handcrafted Floating U Shelves feature a unique, minimalist design including sidewalls. Perfect for leaning books on or just keeping things where they are meant to be. Plus they look amazing. The shelves use a miter fold joint that keeps the surface pristine and hardware free. It also allows for continuous, uninterrupted grain flow of the rich and natural hardwood. They are available in a range of widths and heights. The different sizes and varieties work great in isolation or as a combination. Ideal uses include books, candles, indoor plants, artwork, pictures, and other home decor.